NEED HELP?
What kind of photo should I send?
You'll understand that the choice of photos is essential. The result and the likeness of your bobble head depend on it! It is therefore imperative to send pictures of good qualities. Make sure that your pictures are clear, close up of head (head shots), taken from straight on (a skewed angle may decrease the resemblance), and with a lighting which does not alter the colors.
Although a single photo of front is enough for the realization of your custom bobblehead, we very highly recommend you to send us also a photo of profile to optimize the likeness.
In addition, send a picture of yourself that you like, because it is the exact expression of the present face on your front photo that will be reproduced by our artists.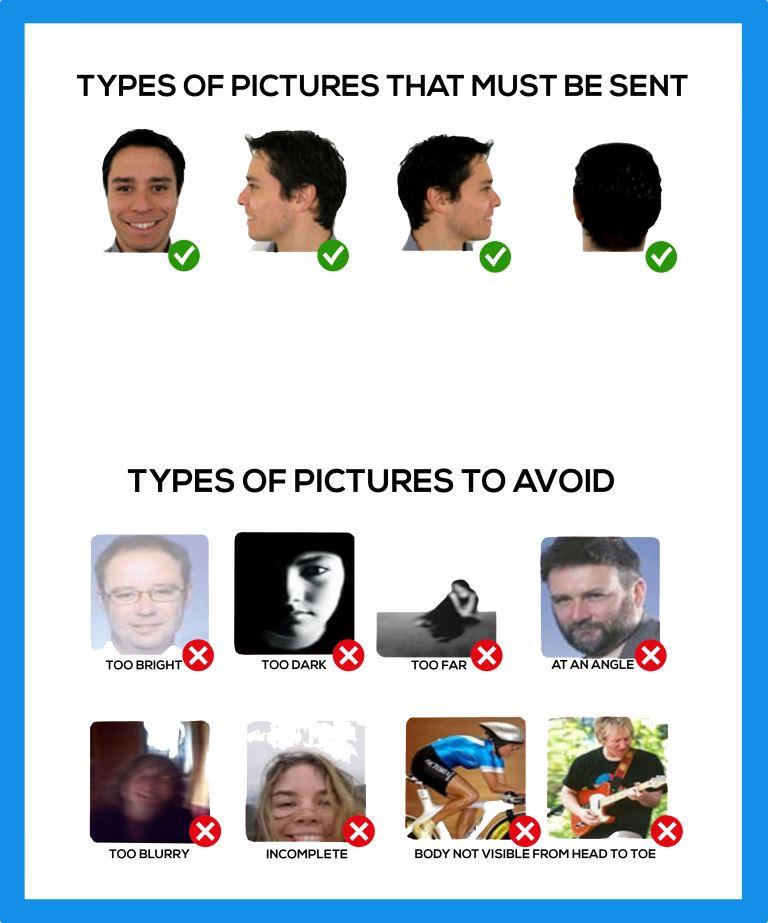 How long does it take to realize and deliver ?
With Mini-Face® we do not compromise with the quality. A successful figurine takes time. Everything is completely hand made by artists of great talent, and this for many hours. We make it a point of honor to maintain our quality for all these years. You are all very many to use our services, that's why the delivery deadline is from 4 to 6 weeks. However you can place a rush order for an additional prices to be delivered more quickly, without neglecting the finishes and quality.
A unique order tracking !
Mini-Face® has set up a validation system unique in the market. You are miniaturized and have your say ! Once your customized bobble head sculpted, you will receive pictures via our approval module, you will then have 72 hrs to specify the elements you want to be retouched. You will receive a new picture of your retouched bobblehead. This process may be repeated until you are fully satisfied or the 72 hrs have elapsed.
The process is the same for body of full head-to-toe custom bobbleheads.
Price and payment
The price of our custom figurines are lower than you might think, given the many hours spent on each figurine.
However, if you find a lower price somewhere else *, we offer the same price + 5% extra discount.
After chosen your type of custom figure, upload your photos and chosen your options you can validate and confirm your order.
You'll be able to choose a payment method :
- Credit card (debit card, Visa, Visa Electron, Eurocard, MasterCard, e-cartebleue) in accordance with a fully secured payment system which guarantees encryption of bank details.
- Check (the check should be made in Euro by bank domiciled in France)
- Bank transfer
- PayPal
- "Pay twice free", by credit card, start from $100 purchase.
Delivery
All our personalized figurines are extremely well packed allowing to maintain them and to protect them from any shock.It is almost impossible that they break during shipping.So, to serve you better, we recommend you very strongly to unpack and to check any parcel in the presence of the carrier.The strict application of these recommendations will lead to a speedy and effective solution in case of delivery problem, and will allow you to wait serenely the reception of your custom bobblehead and thus to assure you a complete satisfaction of your purchase.
The delivery is made by express carrier : Chronopost, DHL, Fedex, CNE or EMS. Any parcel is only delivered with signature. In your absence, a passing event is left in your mailbox.
The recipient then has a period of 15 consecutive days to recover his parcel. Beyond this period, the parcel is returned to the sender.
Tracking : At any time you can track your package on your account.
* For a same product with the same characteristics and sold by a seller located in France.